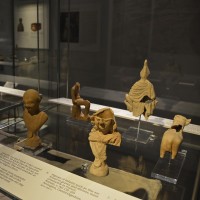 The grave of a one-year-old Roman child was found in Cambridgeshire in 1990. The skeleton had been carefully placed in a lead coffin. A wooden box full of ceramic figurines was placed on top of the coffin before burial.
The skeleton can tell us how old the infant was, but not whether it was a boy or a girl. Specialists see that the child suffered from either anaemia or a parasite, but don't know if this caused the death. We know that the figurines were imported from Europe, but we are unsure whether they were intended as toys or as religious items.
The evidence raises more questions than answers about the life of this child. Future innovations may one day allow us to understand more.