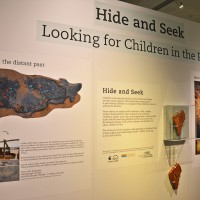 The children now love luxury; they have bad manners, contempt for authority; they show disrespect for elders and love chatter in place of exercise.
Socrates (died 399 BC)
Children outnumbered adults for most of human history, yet they rarely appear in the stories that museums tell. A past without children is incomplete. This exhibition aims to redress the balance. We start with the earliest evidence we have of children in the archaeological record - footprints from the distant past.